Enjoying Some Freedoms
We are back to school here in Maryland, as I'm sure everyone is now.  Look at those grins.  Happy campers.  Both them and me.  They are filling their brains with all kinds of goodness and me, I'm enjoying some quiet time, some free time, some me time.
 The dog days of summer have arrived.  Ninety degrees one day and 63 the next morning with just a hint of fall in the air and the flowers.
Mums, crisp cool mornings and this ginormous old oak tree in our front yard.  The car in our driveway is a Subaru Forester, for those of you wanting some perspective on size.  And yes, our entire house is behind that tree.  Hey, little white house!  Can't see ya but I know you're there.
I cannot wait until the leaves begin to turn.  I am picturing glorious yellow or maybe ruby red leaves on that bad boy.  I'll keep you posted.  Anyone need a future job raking leaves?
Some more freedoms gained recently, baby girl learned to ride her bike.
I must say, I don't remember learning to ride my bicycle.  I remember my pink huffy with streamers coming off the handlebars, a white basket in front where I'd throw my towel and off we'd pedal as fast as we could to the neighborhood pool.  Every day of summer.
I remember riding down our street as a kid, the wind blowing so loudly in my ears I didn't hear much else.  And I remember smiling as I rode.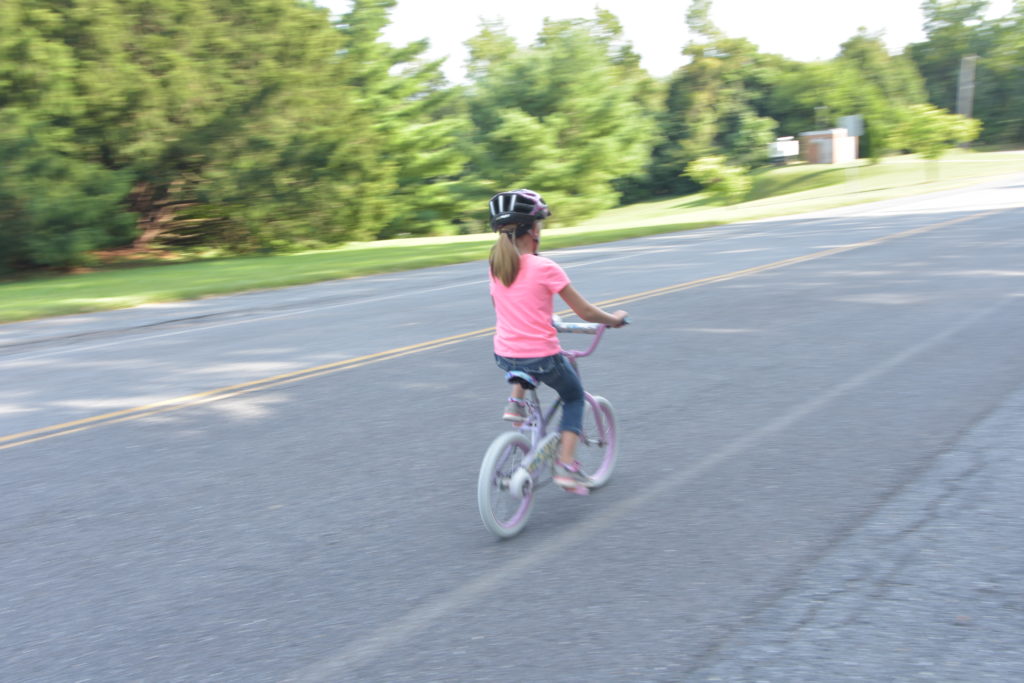 Watching baby girl's face as she realized she was balancing and riding and getting it? Precious.  The smile on her face was as big as the oak tree in our front yard.  And she didn't want to stop.  Rode most of yesterday morning and most of the afternoon and then again this morning while waiting for the bus.  Couldn't get enough.
There's something about tasting our first freedoms, to be moving fast, alone with our thoughts, no little brother bothering us, no momma nagging at us to clean our rooms, just us, the wind, some adrenaline from the speed and knowing at any moment we could crash but managing to keep control.  It's glorious.  Enjoy the freedom, baby girl, enjoy it.