Oh, my writing. How I've missed you, the act of sitting down and crafting sentences, putting specific words in order hoping to make something magical. It's been three weeks and it feels like years.
But I do write all the time in my head.
While washing dishes. Showering. Right before I fall asleep.
Lately, with the holidays and jobs in the way, writing has taken a back seat. Did you catch that little spat, jobs in the way? A necessary evil to fulfill my other dream. Sigh.
I was thinking about mornings the other day, and about sunrises and hot coffee and warm snuggles from my kids. I'm a morning person, a rooster, always have been. I think my college roomies hated me for it. They were night people, bats which would just take flight when I was ready for bed.
Here's a view of my morning.


This is out our picture window. That's a HUGE maple tree right in the middle of our front yard, tire swing and all. My kids and I estimate its age to be about 150, based on the sizes of trunks and rings we counted on the trees our neighbors cut down this summer.  That would mean this maple began growing in, wait, wait (mornings and I get along great, me and math? not so much)…1867.
The year Laura Ingalls Wilder was born, the year Nebraska was admitted to the union, and the year we purchased Alaska from Russia for $7,200,000 (roughly 2 cents an acre).  Holy Moly.
And now this ancient relic watches my little family of four ride our bikes and do grocery runs and swing under her branches.
Across the way, hidden by the maple, is an old red barn which belongs to the farmhouse to the left of the tree. My kids like to watch the farmer haul hay from here, up the road, to his cows in the field.
I love semi-country life.
And then this view…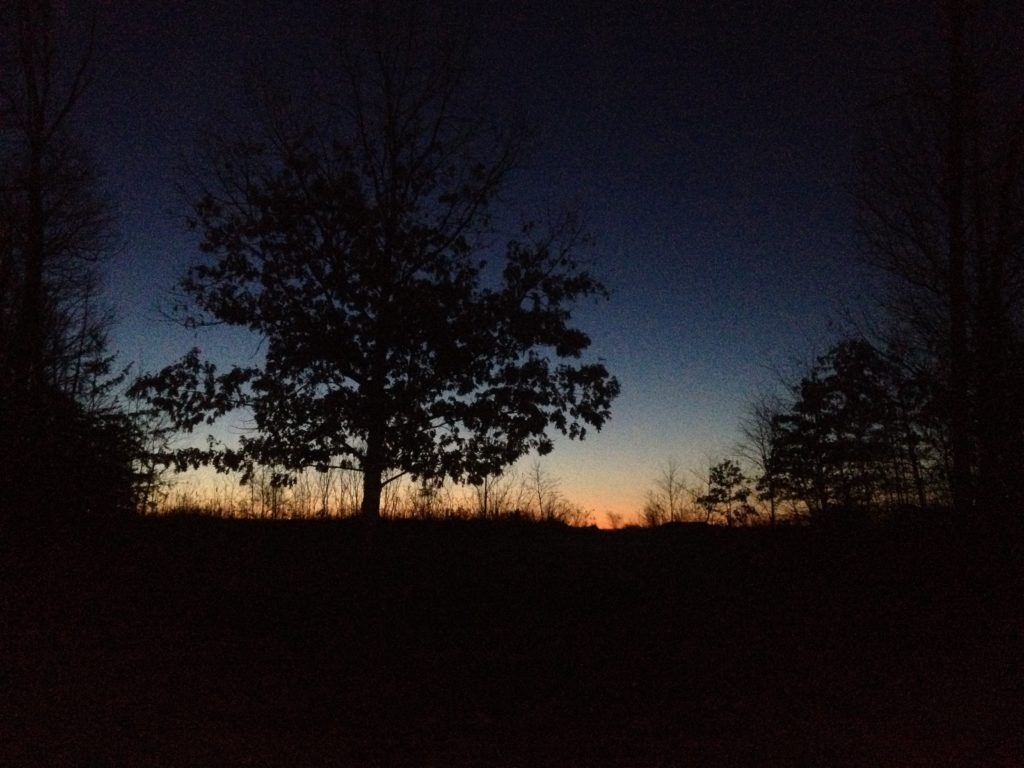 Goodness, isn't that glorious. This is outside my gym and what you can't see are three HUGE tires in front of this tree. They're for exercising. You know, those crazy folks who pick up tires and throw 'em? Or move 'em from here to there, just because? Yeah, not me. I'm a walker. And a stretcher. Simple things which make my body move, my heart beat faster, and me feel good. And then this sunrise. It's good to be up in the mornings.
And just because the others weren't so colorful, this one.  On a  side road, pulled over, early traffic probably heading into DC or Baltimore. The sky just opened up and sang. A mile down the road it was clouds and dark. Location, location, location.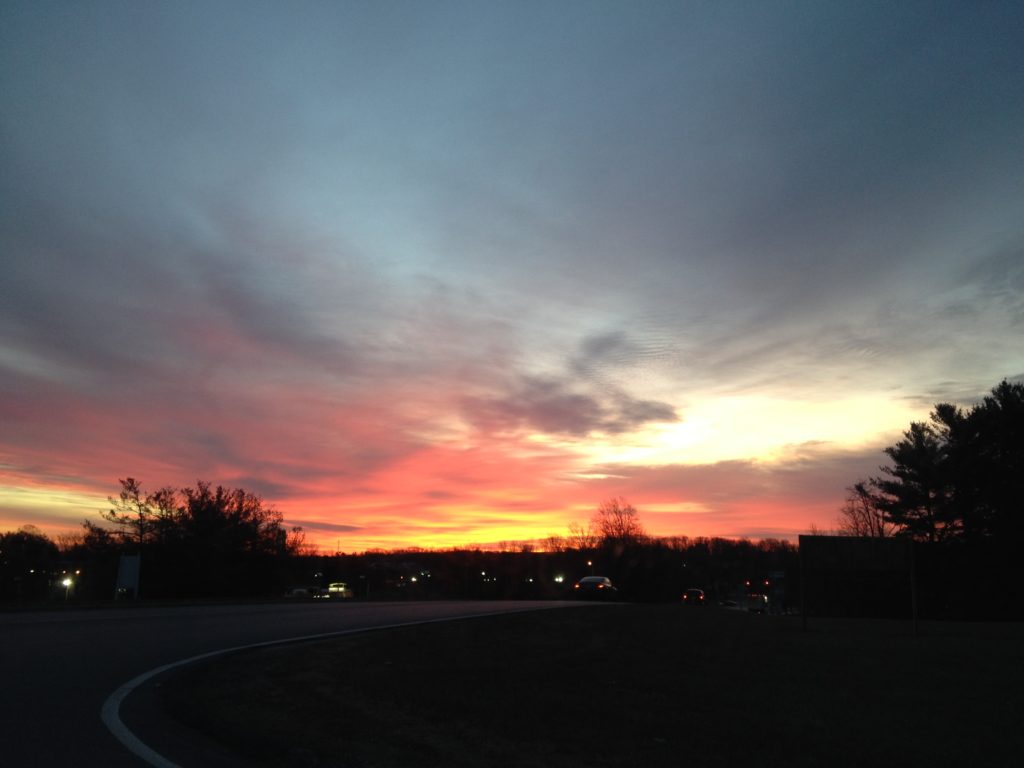 Mornings are kind of my New Year's Day, everyday.
An opportunity, a chance to start over, a new day. Everyday.
We get new chances everyday.
Yesterday, you dropped the coffee filter and coffee grounds flew everywhere in your kitchen? Guess what? New day. (I may or may not have come home to this in my own kitchen this morning. There was some growling going on and I was told to keep out!)
Yesterday, the dishwasher broke down and so did the washer and dryer and so Merry Christmas to you after the holidays? Guess what? New day. (I may know who this happened to…)
Yesterday, your kid threw the bag of dog poop they had just picked up, high up into the oak tree, just to see if they could? Guess what? New day. (I may or may not have done this when I was a kid. Smiles)
And so sunrises and warm coffee…they go together like…like…well, like these two things.
Let me introduce you to a new friend of mine. Dutch Caramel Wafers. My mom brought them to me all the way from Europe last year.
See that waffle-y looking thing on top of my mug? Yes, yes, yes, you set them right on top of your warm coffee where they get all squishy and soft and gooey. And then you eat them. For breakfast.
And can I tell you, can I just tell you that when I saw this little tin, EXACTLY like the one my mom brought me all the way from Europe, when I saw this little tin at my local Home Goods store, I may have, MAY have screamed a bit and completed a dance o' joy, right there in the coffee / goodies / must-have-these-because-no-grocery-store-carries-them aisle. Because they are only $3.99 for the entire tin.

In fact, I bought two tins.
Here, let me show you again.
Ahhh. Do you see that crunchy wafer softening, the thin layer of caramel inside melting? Delicious.
So, sunrises and warm coffee and caramel cookies and warm snuggles from my kids.
All right this isn't a snuggle but this is our youngest, with his groovy new hat and sound-proof headphones (he's headed to a monster truck rally in a few weeks). We get dressed up to brush teeth in our home.
I digress.
New chances. Big opportunities. Starting over.
Happens everyday, comes on with a bang of color and sunlight and brightness, mixes with melted caramel and a cookie crunch, and goes down warm and full of cream.
Life is good in the mornings, don't you agree?